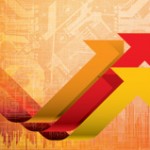 In 2010, Danaher added Keithley Instruments to a stable that already included such well-known brands as Tektronix and Fluke. Combined, the Danaher family of test companies recorded $2.8 billion in sales, edging out Agilent for the number-one spot in the top 10.
Last year, Tektronix introduced a new mixed-signal oscilloscope platform, the MSO/DPO5000 Series, and unveiled new high-bandwidth and low-capacitance passive voltage probes. "Taken together, these products give embedded systems engineers unmatched performance and analysis tools for complex debug and validation tasks," noted Amir Aghdaei, Tektronix president.
Other hot areas cited by Aghdaei include PCI Express, where bus speeds require effective test tools, such as the Tektronix TLA7SA00 logic protocol analyzer. Also in demand: instruments to support test work on DDR3 and DDR4 as well as the new USB 3.0 standard and 100 Gigabit Ethernet communications.
Meanwhile, new products like the model 810 handheld vibration tester for equipment maintenance fueled growth for sister company Fluke. Among other key product introductions cited by Barbara Hulit, Fluke's president, is the 190 Series II ScopeMeter, a four-channel device built for 600-V electrical environments found in manufacturing.
"With energy prices uncertain, we anticipate enduring interest in products for measuring and reducing energy consumption," said Hulit, "and the march of electronic controls across segments, from manufacturing to commercial buildings, will drive the need for more complex measurements as part of regular maintenance and troubleshooting."
Ron Nersesian, president of Agilent's Electronic Measurement Group, attributed his business unit's 15% increase in 2010 revenue in large part to the introduction of more than 200 products, including 47 modular instruments in September alone.
"Our September announcement was the largest modular-instrument introduction in the history of the electronic-measurement industry," claimed Nersesian. "We are just scratching the surface in our multiyear plan to develop modular solutions and give customers the products that best fit their measurement needs."
Nersesian said that interest in smartphones is "exploding," which is driving test applications for 3G and 4G communications. The aerospace and defense business is also growing for Agilent, which claims technology leadership in core products such as oscilloscopes, network analyzers, signal analyzers, and signal sources. One example: the Infiniium 90000 X-Series oscilloscopes that feature up to a 32-GHz analog bandwidth. On the horizon, added Nersesian, is more business from applications related to cloud computing and green technology.
For Japan-based Anritsu, not even a deadly tsunami and earthquake could dampen solid business performance in 2010, when revenue grew nearly 11% in yen (19% in dollars). In fact, all three Japanese companies in the top 10 reported a return to normal operations within two months of the March disaster.
"The chief factors that contributed to our revenue were growth in installation of broadband communications networks and the expansion of data-communications services," said company president Hirokazu Hashimoto. "As a result, our top-performing test products were those that measured mobile communications, including conformance test systems, signaling testers, and field measuring instruments."
Anritsu's new MT8220C radio communications analyzer can evaluate and measure 2G, 3G, and 3.5G mobile terminals, as well as LTE devices. Other key product launches included the MW8219A PIM Master, which is designed to accurately locate the source of passive intermodulation, such as near base stations.
Hashimoto said Anritsu's prospects for 2011 are strong, as the company exploits opportunities in mobile communications. Longer term, he sees growth from automotive electronics, digital household electronics, and machine-to-machine communications.
Another Japan-based company, Yokogawa, gets 80% of its revenue from industrial automation, but its measurement business grew by 16.3% in yen in 2010 (+26% in dollars). Its areas of focus: precision power measurements, waveform-measuring instruments, and data-acquisition systems.
As for significant new products, Takashi Nishijima, president of Yokogawa Meters & Instruments, pointed to the WT1800 precision power analyzer, which measures power consumption and efficiency in cutting-edge inverter/converter technologies. In addition, the new DL850 ScopeCorder instruments provide flexible solutions for making mixed-signal measurements, especially in mechatronics, aerospace, and vehicle systems.
"The global T&M market has been recovering rapidly, led especially by growth in emerging countries," said Nishijima. "We have invested in these regions, maintained our position in major markets, and expect continual and steady growth in 2011 and beyond."