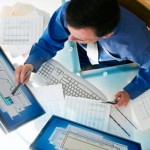 When considering the cost and benefit of pursuing a GSA Schedule contract, whether it is your first contract or your next one, the question always comes up as to what is the size of the market? Is the potential sales benefit worth the cost of pursuing and the maintaining the GSA Schedule contract? Fortunately, GSA makes it relatively easy to figure out the GSA contract market in a general sense, less so in a specific sense.
The place to start is GSA's own web pages. You need some basic information before you start into trying to determine market size. First you need to learn which GSA Schedule contract you are interested in pursuing. Start your research at the GSA E-Library www.gsaelibrary.gsa.gov. There is a link there on the right to the GSA Schedules listing. This is a list of all of the GSA schedules and what they cover. Or you can enter a search term representing the products or services you wish to research and let the search engine suggest schedules.
After selecting the GSA Schedule you need to determine the GSA Special Item Number or SIN that covers the specific products or services. For example, if I wanted to check the market for access control systems that are on entryways, I would find that they are Schedule 84, SIN 246 35 1 or 246 35 2 depending on whether they were proximity or other type systems. If I wanted to find out who already had those types of contracts, I could click on the SIN links and see the list of contract holders. I could also click on any of those contract holders and see what they offered and at what prices.
With this information the next step is to go to the GSA Schedule Sales Query (SSQ) tool to begin the market size research – https://ssq.gsa.gov/. Select "Create Report" and proceed to the report selection page. The SSQ report generator allows you to quickly select a preformatted report of the GSA Schedule sales. GSA offers eleven report formats. Some of the reports will instruct you to select a Schedule number, a Fiscal Year, a Contract number, or a Company name that you found from your search of the E-Library. The report formats are:
1. All Schedules by Fiscal Year
2. All Schedules by all Available Fiscal Years
3. SIN & Schedule Totals by Fiscal Year
4. All Contract Sales by Schedule by Fiscal Year
5. Schedule Sales Grand Total by Quarter by Fiscal Year
6. Total for All Quarters by Contractor by Fiscal Year
7. Total by Quarter & SIN by Contract Number and Fiscal Year
8. Total for Each Quarter for a Specific SIN by Fiscal Year
9. Total by Quarter & Contract for a Specific Contractor and Fiscal Year
10. Total by Contractor for a Specific Schedule and Fiscal Year
11. All Sales by Fiscal Year for a Specific SIN Number
Selecting a report sample helps determine if that report will provide the information you require.
SSQ presents sales figures as reported to GSA by contractors. The reports are generated as quarterly reports for the current year and the past five fiscal years. The sales data reported are updated as contractors' reports are received 30 days after the end of the quarter, but the data may not be up to date as it relies on the self-reporting of the contractors. The data is also only provided at the schedule, contractor and /or SIN level. This does not give you information about the market for a specific product, only a product type. However, GSA does provide the most accurate information available as to the GSA Schedule contract marketplace and it's free. Happy hunting!
Things to Do Now:
Research the GSA Schedule marketplace for your products or services.
Determine if the market is sufficient for the investment into a GSA Schedule contract.
Subscribe to GovContracts to receive notices of federal opportunities (http://search.govcontractsmagazine.com/contracts/fbosearch.cfm)
To expand the government's ability to access your products without worrying about the market size you can get your items on a GSA Schedule contract.
Locate partners now such as Technical Communities who will act for you in the market.
Make sure they have full access to the products or services that are in demand for the government markets.