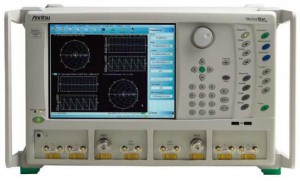 The VectorStar MS4640A family is Anritsu's Premium Vector Network Analyzer line, offering the highest overall performance on a modern platform. The MS4640A Series covers a span of 70 kHz to 70 GHz.. Measurements up to 750 GHz can also be supported using frequency extension modules from either VDI or OML depending on the frequency range.
Anritsu's MS4640A Series is the ideal microwave VNA platform, with unlimited potential such as 100,001 points in single channel mode, intuitive interface and with complete upgradability in frequency range, port-count and options.
For broadband applications, the ME7838A Series offers superior coverage, with world-beating dynamic range and stability, spanning a range from 70 kHz to 110 GHz in a single 1 mm coaxial test port.
Understanding VNA Calibration:
http://anritsu.testmart.com/C/VNA_calibration