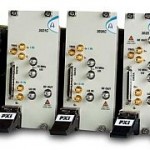 Navy electronic warfare experts needed arbitrary waveform generators (AWGs) — electronic test and measurement instruments that generate repetitive or single-shot electrical waveforms — for Navy and U.S. Marine Corps electronic warfare systems designed to detect and defeat improvised explosive devices (IEDs). They found their solution from the Aeroflex Inc. Test Solutions segment in Cupertino, Calif.
The Naval Surface Warfare Center (NSWC) Crane Division in Crane, Ind., awarded Aeroflex Cupertino an $11.5 million contract Tuesday for AWGs and AWG components to support expeditionary electronic warfare systems development at Crane.
Electronic warfare experts at NSWC Crane's Ground Expeditionary Electronic Warfare Division perform research and development on counter-IED technologies. AWG test instruments generate electrical waveforms based on an internal or external trigger source. Designers then can inject the resulting waveforms into a target device to test and analyze its progress through the target device. AWGs can generate any arbitrarily defined waveshape.
These kinds of devices are particularly important for counter-IED devices because they can mimic IED trigger devices — typically cell phones, garage door openers, or a similar simple electronic device that generates an RF signal. AWGs also can help counter-IED systems designers fine-tune the performance of their systems.
Full article by John Keller, Military & Aerospace Electronics