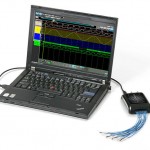 LeCroy has enhanced the oscilloscope connectivity of its LogicStudio 16-channel logic analyzer to support for not only the LeCroy WaveJet oscilloscope, but also several popular oscilloscopes from Tektronix and Agilent. The new software brings an added level of flexibility to the LogicStudio, enabling users of scopes ranging from 40 MHz up to 1 GHz to turn their PCs into mixed-signal oscilloscopes.
You can combine the LogicStudio's 16 digital channels, 1-Gsample/s sample rate, 3.75-ns glitch capture, and serial protocol analysis with the analog channels of the WaveJet 300A or any oscillsocpe from one of six Tektronix product lines or three Agilent product lines. The dynamic waveform display and intuitive user interface combine to provide a deep toolset for digital, serial, and analog debugging.
LogicStudio's digital debug tools include timing cursors, zooming and panning of waveforms, a persistence display, and a history mode that can replay old data captures. Additionally, protocol analysis for I2C, SPI, and UART is included to decode waveforms as they are captured and to trigger on specific address or data packets on the bus.