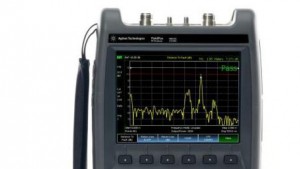 Keysight Technologies promotion: Purchase a Keysight FieldFox before December 31st, 2014 and select one eligible option at no cost!
See below for models and eligible options.
Replace your four or five benchtop instruments with one combination handheld analyzer. No other handheld offers a full-featured VNA, spectrum analyzer, vector voltmeter, peak power meter, power meter and cable and antenna analyzer in one rugged, 6.6 lb. ergonomic package.
N991XA – 4/6.5/9/14/18 GHz CAT, VNA & SA
========================================
112 QuickCal
235 Preamplifier
236 Interference analyzer and spectrogram
238 Time gating
308 Vector voltmeter
309 DC bias variable-voltage source
310 Built-in power meter
330 Pulse measurements
N992XA – 4/6/9/14/18/26.5 GHz VNA
========================================
112 QuickCal
308 Vector voltmeter
309 DC bias variable-voltage source
310 Built-in power meter
N993XA – 9/14/18/26.5 GHz SA
========================================
235 Preamplifier
236 Interference analyzer and spectrogram
238 Time gating
310 Built-in power meter
330 Pulse measurements
N9912A – 4/6 GHz CAT
========================================
110 Transmission measurement
111 QuickCal
235 Preamplifier for spectrum analysis capability
236 Interference analyzer
308 Vector voltmeter
311 Channel power meter
330 Pulse measurements