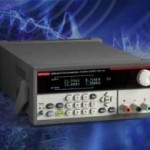 Keithley Instruments, known among engineers for its precision measurement instruments and source-measure units, has entered the bench power-supply market. The company's new 2200 series consists of five linear power supplies with power outputs from 86 W (72 V, 1.2 A) to 150 W (60 V, 2.5 A). Dual displays on the instruments provide programmed and measured voltage and current. When using remote sensing, the instruments display voltage at the sense point.
You can program the power supplies from their front panel or with SCPI commands through their GPIB or USB interfaces. Like other instruments from Keithley, the 2200 series can store seven 80-step sequences that you can step through using software or an external hardware trigger, thus saving a host computer from programming the instrument for each setting. The power supplies can also store up to 40 settings that you can recall from the front panel or through programming commands. A front-panel lock-out function lets you disable the front panel when you don't want operators changing settings. Programmable limits prevent the instrument from potentially damaging a device under test with excessive current.
Basic DC accuracy is 0.03% for voltage and 0.05% for current. Programmable resolution is 1 mV and 0.1 mA. The supplies have front and rear outputs for use on the bench or in a rack, plus rear-panel status and control lines.