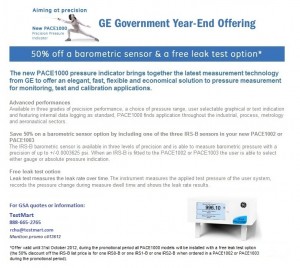 GE pressure measurement instrument promotion* will be expiring on October 31, 2012.
The PACE1000 is a high precision pressure indicator, designed for test bench, bench top and panel mount calibration, test and monitoring applications. It features single, dual, or three pressure range configurations, data logging, and color touch screen display for up to three pressure measurements from up to five sensor inputs simultaneously.
*PACE1000 models will be installed with a free leak test option and 50% discount off one IRS0-B or IRS1-B or IRS2-B when order a PACE1002 or PACE 1003.
Call TestMart at 888-665-2765 for government pricing.