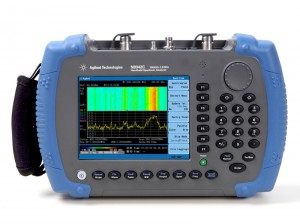 U.S. government, military and prime contractors can now get a free demo on the 7 GHz: Agilent N9342C.
The Agilent N9342C handheld spectrum analyzer (HSA) is designed for the field. Whether you are installing and maintaining RF systems, doing on-site troubleshooting, monitoring RF environments, or analyzing interference, you can depend on the N9342C HSA for fast and accurate measurement.
Built in a rugged, fanless, and compact chassis, the N9342C HSA is more than easy to use – its measurement performance gives you the assurance you need to know that the job has been done right. The 6.5 inch TFT display on the N9342C HSA provides a vivid and bright view of the spectrum – in both indoor and outdoor environments. Automatic LCD brightness and keypad backlight control provides clear viewing during the day and at night. Take comfort in the N9342C HSA's unique ergonomic backpack and gain true "hands-free" operation. Increase your work efficiency with the personalization features like customizable frequency channel tables, amplitude corrections, or simply use the free PC software to remotely control the N9342C HSA through the USB/LAN connection.
U.S. Government, military and prime contractor facilities only
No obligation, costs or hidden fees
Free shipping to and from your facility
Limited slots available
Schedule a free 7-day field trial
Call GSAMart toll free at (888) 665-2765 x3745 or Sign up