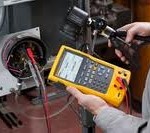 Engineers and technicians can use Fluke's new 750 series of calibrators to calibrate temperature, pressure, voltage, current, resistance, and frequency. In addition, these rugged handheld instruments offer three operating modes—measure, source, and simultaneous measure/source—enabling technicians to troubleshoot, calibrate, or maintain instrumentation with just one tool.
The Model 753 and Model 754 feature a menu-driven display that guides users through tasks. Programmable calibration routines let you create and run automated as-found/as-left procedures to ensure consistent calibrations. Recorded results can be downloaded to a PC via a USB port.
The graphic display of the calibrators is bright enough to be read in any light condition, and a multilingual interface displays instructions in English, French, German, Spanish, or Italian. Units also have a rechargeable Li-ion battery pack that provides power for an entire shift and can be charged from within the calibrator.
The 750 series comes standard with three sets of stackable test leads, three sets of TP220 test probes with three sets of extended-tooth alligator clips, two sets of AC280 hook clips, a soft case, Li-ion battery pack and charger, USB communication cable, and HART communication cable (Model 754 only). Both models come with a NIST-traceable certificate of calibration.