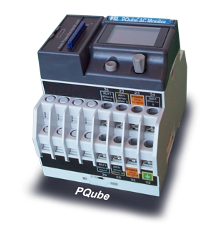 When a mountain-top radar system crashes then re-starts as though nothing happened, it's dangerous. It can be really tough to figure out if the crash was caused by a software bug, loose cable, bubble in the cooling water or power glitch. 
A new tiny recorder called the PQube solves this problem by capturing complete information about every power disturbance. The tough PQube functions like the black box in an airplane, recording the reason for every crash. Government technicians and engineers use PQubes to increase the reliability of airport systems, data centers, sophisticated medical electronics and building automation systems.
Using miniaturized technology, the PQube power monitor is about the size of a large digital camera and costs about the same as a high-end digital camera. The unit replaces older portable instruments the size of a suitcase and cost as much as a small car.
Currently deployed by the FAA, U.S. Navy, NASA, Intel, and hundreds of other organizations, the PQube automatically write reports to pop-in, pop-out digital camera memory cards.  If an Ethernet port is available, the PQubes will even automatically email photographs of every power disturbance to their user.  No software is required – everything is built into the PQube. They even functions as an ultra-accurate ultra-high-resolution energy meter, with a built-in web server. 
A new partnership between Technical Communities, a contract, marketing and sales company focused on the public sector, and Power Standards Lab (PSL), the maker of the PQube monitors, gives government buyers greater access and lower pricing in multiple distribution channels, including www.gsaadvantage.com, www.gsamart.com, and www.testmart.com. PSL products will be offered to eligible organizations under General Services Administration (GSA) Multiple Award Schedules (MAS) managed by Technical Communities using Schedule #GS24F0066M.
"Our new partnership with Technical Communities will make it even easier for government buyers to take full advantage of PQube power monitors," said Alex McEachern, President of Power Standards Lab. "And we're proud that all of our instruments, including the PQube, are designed and made here in the USA."
"Technical Communities is excited to offer the federal government power quality and energy monitoring instrumentation from PSL," said Peter Ostrow, President and CEO of Technical Communities. "With Technical Communities' expertise in the federal market, we could help PSL achieve greater reach into government purchasing organizations."