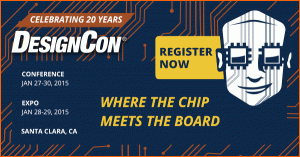 WooHoo! I've booked my airline tickets and hotel room, and will be heading to the heart of Silicon Valley to attend DesignCon 2015 in late January. In case you are unfamiliar with DesignCon, it is the premier high-speed electronic design conference hosted anywhere in the world. With the motto, "where the chip meets the board," it is all about getting data quickly from point A to point B- whether that means chip-to-chip, across backplanes, or (in the case of optics) between cities.
Scheduled January 27-30 at the Santa Clara Convention Center, DesignCon hosts extensive tutorials on the latest in high-speed serial link design, simulation, and test. I have a background in testing high-speed electrical and optical links, and I'm intrigued to see the latest techniques in action.
But that's not why I'm going.
Readers of the Test Cafe blog know my focus on the disruption caused by modular instruments and the disaggregation of software from hardware. Driven by PXI, modular instruments are rapidly gaining share in automated test applications, typically concentrated in manufacturing. Conversely, DesignCon targets the quintessential design engineer. If there is one place where traditional "box" instruments shine, it is the electrical designer's lab bench.
But is that still true? That's what I'm going to find out.