Satellite-communications (satcom) systems are not the most cost-effective means of connecting two points. They have limited bandwidth and capacity, to say nothing of the effort required to get a satellite into orbit around the earth. However, compared to terrestrial metal wire, optical fiber, and even wireless communications systems, satcom links do offer some advantages.
Satcom systems can connect with difficult-to-reach areas, operate with variable information rates, and be adapted to the needs of many different customers. Some customers—in particular, those needing communications links to new areas at short notice, such as in broadcast and satellite-news-gathering (SNG) applications—have found satcom services to be as invaluable as they are reliable. And military customers [e.g., those using satellites for surveillance functions or for remote control of unmanned aerial vehicles (UAVs) in hostile locations] are finding satellites difficult to replace.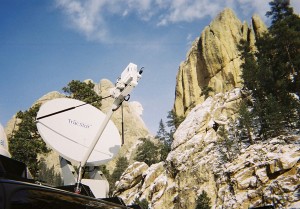 1. Large, fixed satcom earth-station terminals such as this dish on Mount Rushmore provide reliable communications at high data rates. (Photo courtesy of Cobham plc.)
As a business, demand for satcom services is strong and growing. Because satellites can support reliable voice and video communications and high-speed data communications almost anywhere on the planet (including on ships, planes, and other moving vehicles), they have become the preferred means of communication for commercial and military customers alike. In fact, with many US military customers become more cost-conscious as their budgets are being tightened, satcom service providers are exploring novel possibilities—for instance, using one rocket to launch multiple satellites, or consolidating capabilities once handled by multiple satellites on board a single one.
Satcom systems consist of the space-based equipment [such as antennas, receivers, frequency converters, filters, low-noise amplifiers (LNAs), switches, transmitters, and high-power amplifiers (HPAs) for transmission on board a satellite], as well as the earth-based equipment based on the same lineup of components, stored in a fixed or movable earth terminal. Fixed-earth terminals (Fig. 1) can be integrated with earth-based communication infrastructure, including fiber-optic links and wireless networks. Mobile terminals (Fig. 2) offer the flexibility of portability and being able to make connection points where needed.