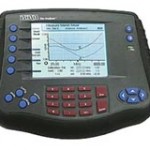 SA-6000XT, 25-6000 MHz Site Analyzer – One Unit covers the Entire Range!
Easy to operate and field ready for first-time, occasional and experienced users. Other applications include 3G, Broadcast, Government, Tactical Military, Microwave, Paging, Public Safety, Trunking, WLAN and WLL, and TETRA.
Color display is clearly visible in direct sunlight. With a single download you can view data as Distance to Fault or Measurement Match-no need to store two traces. FDR (Frequency Domain Reflectometry) measurement method results in a highly reliable assessment of the health of critical components in your system; ultimately providing a "heads-up" before a failure occurs. Fault location or DTF mode indicates VSWR or Return Loss levels at each point along the cable and antenna system length. Cable Loss function measures insertion loss of the cable system over a given frequency range.
Special promotions (GSA purchase only) for site analyzers 3600XT (25-3600 MHz) and 6000XT (25-6000 MHz) are offered through the end of September – see details.