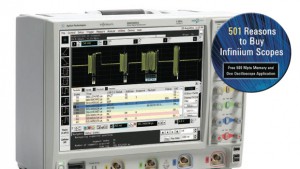 For a limited time only, Get 500 Mpts memory upgrade and one qualifying oscilloscope application with each Infiniium oscilloscope purchase.
This scope is engineered to give you the broadest measurement capability available up to 4 GHz to meet your needs both today and in the future. 
The 3-in-1 scope features an oscilloscope, logic analyzer, and protocol analyzer.
Details: http://agilent.testmart.com/C/9000