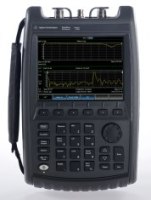 Customers who purchase a new high performance benchtop from the list below, are eligible to receive a 50% discount on a fieldfox handheld analyzer and options of their choice.
This promotion also applies to multiple hi performance benchtop instruments and Fieldfox analyzers purchased on the same order. For example, if 2 or more benchtops are purchased and equal quanity of Fieldfox 50% discounts can be applied.
Promotion is available from now to February 28, 2013
Eligible Products
PNA network analyzers: N5221/22/24/27A, N5230C, N5231/32/34/35/39A, N5241/42/44/45/47A, N5251A, N5264A
PXA signal analyzer: N9030A
PSG signal generators: E8257/67D, E8663D
Q-Series oscilloscopes: DSAX96204Q, DSAX95004Q, DSAX93304Q, DSAX92504Q, DSAX92004Q, DSOX96204Q, DSOX95004Q, DSOX93304Q, DSOX92504Q, DSOX92004Q
X-Series oscilloscopes: DSAX93204A, DSAX92804A, DSAX92504A, DSAX92004A, DSAX91604A. DSOX93204A, DSOX92804A, DSOX92504A, DSOX92004A, DSOX91604A
A-Series oscilloscopes: DSA91304A, DSA91204A, DSA90804A, DSA90604A, DSA90404A, DSA90254A. DSO91304A, DSO91204A, DSO90804A, DSO90604A, DSO90404A, DSO90254A.
DCA-X oscilloscope: 86100D
Eligible FieldFox models
N991xA combination analyzers N992xA vector network analyzers N993xA spectrum analyzers
Call TestMart for a GSA quote or more information: 888-665-2765