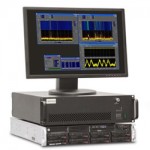 Three low-cost broadband signal analyzers from Aeroflex locate, record, and analyze complex communications signals for commercial, military, and aerospace applications. Comprising a portable instrument and two rack-mount units, the analyzer family is said to reduce the average cost of signal analysis by 55%.
The Scout CS1104 portable signal analyzer provides RF coverage from 20 MHz to 3 GHz with instantaneous bandwidth of 40 MHz. It also packs 8 Gbytes of signal-capture RAM and a 1-Tbyte removable data-storage disk to allow you to record and analyze while stationary or mobile.
The Hunter CS1207 and Explorer CS1247 rack-mount signal analyzers let you search for a specific signal, hone in on a narrower frequency range around that signal of interest, and analyze it. Hunter's RF coverage extends from 10 MHz to 6 GHz with 70-MHz instantaneous bandwidth. Explorer combines Hunter's narrowband capability with additional wideband capability. It provides RF coverage from 10 MHz to 6 GHz with user-selectable instantaneous bandwidth of 70 MHz or 400 MHz. Both Hunter and Explorer have a 32-Gbyte signal-capture RAM and an 8-Tbyte removable data-storage disk.
All three instruments are compatible with Aeroflex BSA modular software. Standard software modules supplied with each analyzer include BSA Basic (spectrum and spectrogram waterfall plots), BSA Modulation Domain (calculates and displays AM, FM, and PM waveforms), and BSA Scanning Spectrum Analyzer (to view any range of spectrum instantaneously). A GPS hardware module is standard on Scout and can be ordered as an option for Hunter and Explorer.