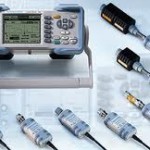 In the past, traditional power meters were the de facto standard for performing power measurements. In market terms, power meters are a mature and stable segment. With capital expenditure being a major concern for many companies, however, end users are requesting more cost-effective alternatives, and USB power meters have made significant inroads in the market. The lower cost of USB power meters compared to traditional devices plus their ease of use and portability drive demand for such instruments.
There is definitely a trend toward the use of more USB-based technology. Several leading companies in this market, such as Anritsu and Rohde & Schwarz, made the decision to focus on USB power meters. But the huge existing installed base of traditional power meters is projected to delay the growth in the USB power meter market in the short and medium terms.
With $77.4 million in revenues, traditional power meters represented the majority of the total market revenues for all types of power meters in 2010, a 75.2% revenue market share, and companies such as Rohde & Schwarz currently witness nearly as much revenue from traditional power meters as from USB power meters. Yet, the traditional power meter segment is a declining market, as projected revenues are expected to fall to $72.6 million in 2017.
The trend is shifting in favor of USB power meters. USB power meters have been undergoing increasing growth with revenues reaching $25.5 million in 2010. It is estimated that increasing revenue growth rates will translate into sizable revenues of $43.1 million by 2017, or 37.3% of the total market revenues.
Further analysis performed on the market in 2010 indicates that 70% of the revenues from USB power meters were generated from the communications end-user segment, and the other 30% came from the aerospace and defense industry. The market share of aerospace and defense, however, is expected to increase over the forecast period (2011 to 2017). This is mainly due to capital expenditure from governments.
The defense sector is expected to play a key role in enhancing the market share of USB power meters in the future. Moreover, the market is seeing increased adoption of higher-frequency and higher-speed measurements in aerospace radar signal applications that will be key drivers for USB power meters in the forecast period. The use of USB power meters is likely to accelerate, due to their ability to provide precision and affordability, which address end-user demands more effectively than their traditional counterparts.