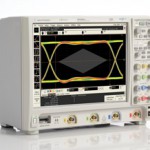 The high-definition Infiniium 9000 H-Series oscilloscope offers up to 12 bits of resolution, which represents 4096 quantization levels, for precision signal viewing. The 9000 H-Series' combination of hypersampling and linear noise reduction technology achieves a noise level up to three times lower than traditional 8-bit oscilloscopes. Engineered to provide low noise and high-dynamic-range measurement capability, these scopes also offer comprehensive measurement capability with MSO upgrades, a variety of apps, and compatibility with Agilent's probing portfolio.
"Customers who work with power-consumption measurements now have a comprehensive solution to make accurate current-consumption measurements at an affordable cost," said Jay Alexander, vice president and general manager of Agilent's Oscilloscope Products Division. "The 9000 H-Series oscilloscope and N2820A and N2821A current probes combine low noise and high sensitivity to give engineers the high-accuracy measurements they need for creating energy-efficient products."
The Agilent 9000 H-Series provides standard memory of up to 100 million points per channel, making it the deepest standard memory in the industry. This memory depth can be upgraded to 500 million points per channel to acquire longer windows of time while retaining fast sample rates.